• area events • news • shows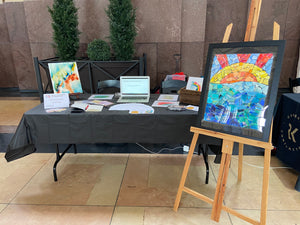 When I was working with my coach last year, she explicitly asked me if I wanted to make watercolor my full time job, and I said no. Both because I think the struggle to make it sustainable & profitable would be incredibly hard, but also because I simply didn't want to put that type of pressure on it. When painting is a hobby or part time gig, I can choose to not do commissions (which are stressful & anxiety inducing for me). I can paint when I want to. I can paint what I want to. It can stay a stress...
---
• area events • art struggles • news • shows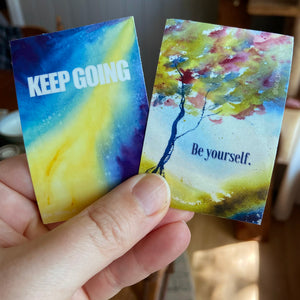 I have a love/hate relationship with outdoor art events. I love that they're my best sales, and I love seeing how people react to my art. But I hate that they're so hot in KC in the summer, and that the weather is so temperamental and sometimes ruins the events. My coach challenged me to come up with a way to make them fun this year. Together we came up with the idea to give out free stickers. I decided to create stickers for kids & adults, in order to spread happiness & positivity. The kid friendly stickers are colorful circles...
---
• area events • news • shows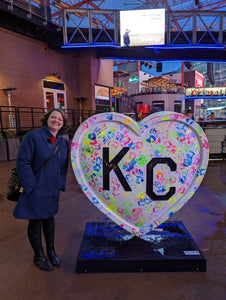 154 giant hearts are scattered throughout the Kansas City area now through the end of May. You may see a few just going about your daily life, but it might be a fun challenge to see how many of them you can visit this spring! The updated Parade of Hearts website is now live! It includes heart info, artist bios, and location info. The new app has GPS maps, the heart & bio info, activities, and offers as well. The "Pass It On" heart is sponsored by PNC Bank & the Power & Light District. It's in a great location...
---
• area events • news • shows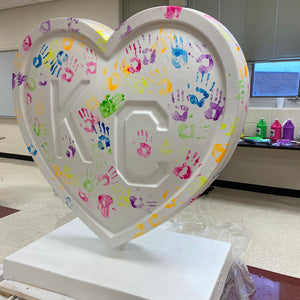 The "Pass it On" heart for the 2022 Parade of Hearts in Kansas City features over 300 handprints from my husband's 8th & 9th grade English classes. It was a truly collaborative project--I came up with the idea but couldn't have achieved it without him. Even the school custodians had to help--they had to take apart a door so we could get the giant heart in and out of the school!The biggest thanks goes to my husband, who I volun-told to do this with his students, who helped me haul the heart back and forth multiple times, and who is my...
---
• area events • news • shows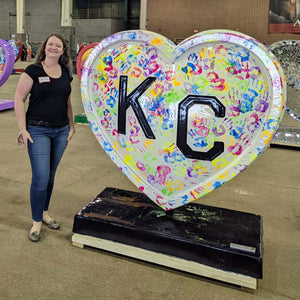 Parade of Hearts is a celebration of art in the heartland featuring 5 foot tall heart sculptures painted by area artists. Over 700 designs were submitted in the fall of 2021, and I was one of 123 artists chosen to paint a total of 154 hearts. (Most of us got to paint a single heart; a few got to do two.) Somehow I never posted updates about this huge project here on my blog though! So here we go, from the beginning..... "Pass it On" was selected from my two proposals, and I went to pick up my blank white heart...