• around the web • art struggles • beginners • color theory • paint • pigment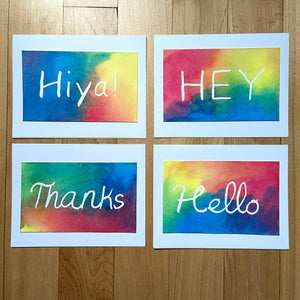 Do you struggle with muddy watercolors? Do you want to get brighter mixes? Understanding color bias was a major step towards solving these issues for me. As a self taught watercolor artist, I spend a ton of time on blogs and YouTube. There is so! Much! Info! on any topic you can imagine on the internet. I spent a ton of time researching watercolor supplies after the free class I took at the library. I'm such a nerd--and I secretly hoped if I researched enough and bought the exactly right supplies I would have an edge over every other beginner. Silly right?...
---
• color theory • paint • pigment • supplies
Orange & blue is one of my favorite color combos to use in my abstract work. Color theory tells us that complementary colors mix to make neutrals, and I've had the best results with blue and orange. Red and green (or more accurately, in my experiments, viridian and a cool red) often work as well, but I've had zero luck finding a pleasing combination of purple and yellow. And I've tried! A LOT. Instead, purple and yellow just make mud, almost without fail, and the worst part is it's not even interesting mud. It's just ugly brown. Give me a lovely granulating...