• art struggles • collage • supplies • tips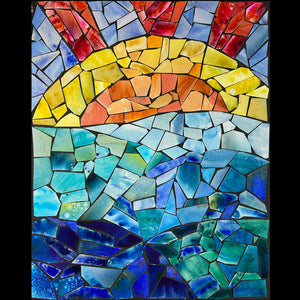 I am passionate about reducing waste in my life and my art practice. I paint on both sides of paper when I can and keep every terrible painting or scrap to reuse in collage.  Here's a video from Instagram that shows a few more of my recycling & waste reducing techniques that you can steal for yourself!   View this post on Instagram A post shared by Jen Roberts - Artist (@late_blooming_art) I keep meaning to make part 2, and I'll be sure to post it here too when I do.
---
• art struggles • collage • experiments • weekly summary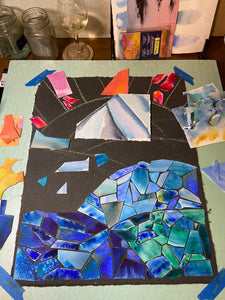 Alright I'm on a two week stretch of actually writing about the week's studio adventures! (Last week is here, if you want to catch up.) Progress!  I was able to finish one of my Seasons series last week: I have had this round watercolor paper for many months, but struggled to find a good way to use it. I was excited when I stumbled upon this idea last week. Then I struggled with how to differentiate between spring/summer with just color, since in general I associate green & blue with each season. I think the addition of yellow helped brighten up the...
---
• collage • experiments
I made my first collage today from failed painting experiments! I have a stack of underwhelming pantings and color experiments that I've been meaning to do...something...with for a while. The stack keeps growing and I kept putting off trying anything with them, which was silly because they weren't doing me any good like that, so I might as well try something creative and different with them, right? Well another local artist I follow on Instagram made some cool collage cards from old paintings today, and I decided surely I could start with something small like that. So I went to...