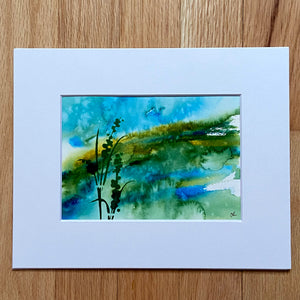 Late Blooming Watercolors
Adaptability
Regular price
$40.00
$0.00
Unit price
per
Playing with color is my favorite reason to paint with watercolor. I love to see what the paint will do on its own, like in the background of this palette knife painting.
While the background was interesting, it wasn't complete. It took me many weeks of contemplation to decide to try a mixed media technique with a stencil, but...nothing ventured, nothing gained. And in this case, I was pleased enough with the result that I wanted to share it with you.
With watercolor we go with the flow and learn to be flexible with unexpected outcomes. This textured painting in blue and green comes in an 8x10 inch white mat to fit a standard frame of your choice.
---